NATIONAL WATER AND WASTEWATER CONFERENCE
2022
Halifax, Nova Scotia
November 6 – 9, 2022
This annual conference offers a wide-ranging technical program covering almost all aspects of the municipal water sector, while offering the best networking environment for Canada's water leaders.
As THE national conference for the water utility sector, this event offers the best opportunity for sponsorship and exhibiting your products and services to Canada's most senior water managers.
secure your spot at the event
We'll be launching registration for NWWC 2022 shortly, but we wanted to share the registration fees, for those who may already be budgeting to attend the event!
In order to facilitate student participation we are offering discounted rates for all students regardless of membership or participation status.
Please confirm your membership status before registering. Fees will not be adjusted if you register as a non-member. If you need help with a new login or completing the registration CWWA is happy to help. Contact Kara Parisien at kparisien@cwwa.ca.
Refunds: Refunds are available up to October 10, 2022 (less a $10 administration fee). There are no refunds on individual webinar purchases.
Share your experiences and research
CWWA is seeking presentation proposals for the NWWC2022.
In order to build a Conference program that maximizes the experience for our diverse delegates and to create a program that will interest everyone, we need YOU to share your ideas, concepts, experience and research. We're planning sessions that will cross all sectors of our industry and connect all of our delegates, but we'll also feature sessions that will focus on national issues.
If you're interested in sharing your achievements on a national stage please submit a 250-500 word presentation proposal, describing your proposed presentation, and what session theme it would best fit into.
Submit your proposal by May 15, 2022 for consideration
The program focus will be on water and wastewater management. If you have something to share on:
Utility management
Wastewater and stormwater management, case studies and emerging contaminants
Drinking water management, monitoring and outreach
Water efficiency programs, community outreach etc
Biosolids management
Utility security
Climate change and its impacts on the water and wastewater sector
Collaborative research between utilities and academic institutations
We are very excited to be hosting our first live event in two years. We recognize that as we return to normal we'll need to be flexible, and may need to explore virtual presentation and attendance options. Priority will be given to speakers who plan to attend the Conference and present live. We encourage you to submit a proposal even if you are uncertain of attendance status.
Halifax Marriott Harbourfront Hotel
Save time and money by staying at the Conference Hotel.
Staying at the Halifax Marriott Harbourfront Hotel, not only puts you steps away from all the Conference activities, supports CWWA and the event  but will also save you money, taking advantage of our special Conference hotel rates as low as $209 a night.
ABOUT THE VENUE
Halifax Marriott Harbourfront Hotel
1919 UPPER WATER STREET
HALIFAX, CANADA, NOVA SCOTIA B3J 3J5
Elevate your experience in Nova Scotia's bustling capital city with a stay at our newly renovated Halifax Marriott Harbourfront Hotel. As the only hotel situated along the scenic Halifax waterfront, we offer easy access to the shops and restaurants along the boardwalk as well as the Historic Properties.
GUESTROOM RATES 
Special room rates have been negotiated for you and will be available to Conference attendees only. Please book before Monday, October 3, 2022 to get the reduced rate of $209.00 plus taxes. Reservations made after this date will be based on availability. 
Gain Exposure and support Cwwa
Sponsorship is a great way to support the event, and promote your products and services. You can have your logo front and center by sponsoring our mobile app, badges or lanyards. Gain even more exposure by choosing our Conference Celebration, which includes a speaking opportunity and puts your name at the center of the conference social event.
We are offering a wide range of sponsorship opportunities, allowing your company to gain exposure at any budget. We are also happy to customize a sponsorship package that meets your needs and budget, so please feel free to reach out to discuss options.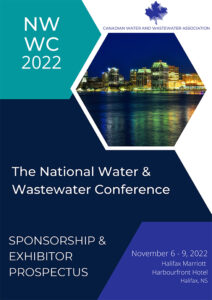 Showcase your products and services
Our exhibitor opportunities offer you a unique opportunity to access senior water and wastewater managers. Our exhibition is integrated into Conference activities, making it the center of networking and social activities during the event.
Sponsorship and the exhibit will put you in touch with our elite range of delegates, offering a number of benefits including:
The opportunity to present your products, services, and newest innovations directly to senior managers.
Access the water and wastewater managers on a one-to-one basis who make the decisions about products and services.
Develop a higher profile within the water and wastewater arena.
Strengthen existing relationships and create new ones nationally.
The NWWC is by far the best networking event in Canada for our water/wastewater utilities and our private sector partners that support utility operations. Your support as a sponsor or your participation in the "marketplace" puts you in the middle of this network. Our exhibitor space is not off in a separate trade show room, but has been purposefully designed as a marketplace that serves as a hub of the entire conference – where most of the meals and coffee breaks are held. A table in the marketplace gives a space to introduce yourself and your services to Canada's most influential water leaders.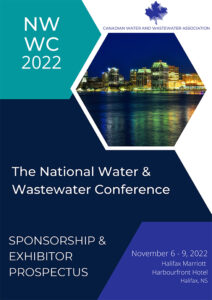 CONTACT OUR CONFERENCE MANAGER FOR MORE INFORMATION AND TO CUSTOMIZE YOUR SPONSOR OR EXHIBITOR PACKAGE:
Shannon Byck, CMP, VEMM, DES
Intuitive Conferences + Events
e: shannon@intuitivece.com
c: 647-215-5267
Download past programs and watch recordings from our webinar series
The 2021 NWWC recordings are restricted for delegates only, but you can watch recordings from our 2020 NWWC webinar series.
Want a sneak peak of what our NWWC looks like. Download the Conference programs from past events.

CWWA is a non-profit national body representing the common interests of Canada's public sector municipal water and wastewater services and their private sector suppliers and partners.
Head Office
CWWA, Unit 11, 1010 Polytek Street, Ottawa, ON K1J 9H9 Canada
(613) 747-0524
admin@cwwa.ca