CWWA's Board of Directors are reviewing all CWWA's Policy Statements to update, and develop new more relevant statements. We will be updating this section as statements are approved by the Board of Directors.
Sustainable Water Services
Overview
A sustainable water service recognizes and incorporates
social (service level and affordability), environmental and
economic factors while ensuring full cost recovery and
intergenerational equity. There are many benefits to
communities where utilities provide sustainable water
services (water, wastewater and/or stormwater). Over the
long‐term, there may also be significant risks to public
health, local economies and the environment if water
services are not truly sustainable. However, there are a
number of key challenges or barriers to achieving
sustainable water services. Utilities should plan to move
closer to sustainable water services, recognizing those
challenges, and monitor their progress to that objective.
Communication with, and engagement of, the public and
elected officials as to the social, environmental and
economic value of water services will be essential in that
process.
Joint Statement of Canada's National Professional Associations: Advancing Integrated Climate Action
Overview
The recently released IPCC SR15 report is unequivocal: we are beginning to experience the impacts of climate change, and it will take "rapid, far reaching and unprecedented changes in all aspects of society" to keep global warming below the crucial threshold of 1.5C. As professionals, we have the opportunity and responsibility to address both climate change mitigation (emissions reduction) and adaptation (responding to the impacts we cannot avoid). Our associations have a crucial role to play in advancing ethics, awareness, practices and policies that support integrated action on climate change, due to our prominent roles in many aspects of the development and management of resources, ecosystems and communities.
As such, we acknowledge that climate change is causing a variety of unavoidable impacts, many of which are projected to increase in duration, magnitude and severity. In the years ahead, these impacts will affect the outcomes of professional decisions made today. There is widespread recognition that we must plan ways to adapt, and that reducing greenhouse gas emissions is crucial if we are to minimize the risks – both types of actions are urgently required. Typically, mitigation and adaptation have been addressed separately; however, every opportunity to mitigate or adapt must be explored. Can an adaptation solution incorporate mitigation? Can a mitigation solution incorporate adaptation? Can thinking that incorporates both action streams as one process lead to transformative approaches?
Integrating these perspectives in a "Low Carbon Resilience" lens to guide decision-making and best practices, where appropriate, can save time and resources, increase returns on investment, and generate economic, environmental, social, and health co-benefits. Ensuring the two streams of action are coordinated and cross-evaluated can also help to avoid risks and unintended consequences associated with advancing them separately.
Overview
This paper is focused on food waste grinder use by the residential sector. Food waste grinders may also be used by the Commercial and Institutional (C&I) sector, particularly food service establishments (e.g. restaurants, cafeterias in hospitals, schools, etc.). As food waste grinders used in the C&I sector are typically larger units, the issues discussed in this paper can be magnified. It is considered best practice for jurisdictions to require, through their Sewer Use Bylaw or other regulatory means, that C&I food waste grinders and similar equipment used in the preparation of food be connected to a solids interceptor (prior to connecting to a grease interceptor). Jurisdictions can also consider a prohibition on commercial food waste grinders. The Canadian Council of Ministers of the Environment (CCME) Model Sewer Use Bylaw (2009) contains an optional additional requirement for prohibition of food waste grinders and other pretreatment requirements in the Advanced Clauses, Section 7.
Support and Funding for a Canadian Standard for Flushable Consumer Products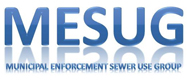 All of us in the wastewater sector understand the harmful impact that so-called flushable products have on our municipal wastewater systems. From additional maintenance, to equipment damage, to clogs and system failures to contamination of sludge, this issue is costing Canadian municipalities over $250 million each year. The inappropriate labeling of products and counter-education of our customer's needs to be addressed. Currently, there are no standards, regulations or official definitions for the use of the term 'flushable'. A solution is needed that supports jobs and free trade, but not at the expense of our wastewater systems. MESUG and CWWA have combined forces to address this situation for Canadian utilities, but we need your support.
Read More
MESUG, the Municipal Enforcement Sewer Use Group, is a non-incorporated group of municipal enforcement professionals working together to address common issues regarding sewer use in Canadian municipalities. MESUG spearheaded this effort to bring awareness and then invited CWWA to be a partner to assist with financial administration and national/international outreach. CWWA, the Canadian Water and Wastewater Association, is a registered not-for-profit corporation that serves as the national professional association for our municipal sector. Together, MESUG and CWWA have been working on this issue for a few years, and working at it from various angles.
An ISO (international standard) initiative was commenced in 2014 by Canada through ISO's Technical Committee (TC) 224. Considerable progress was made on the development of a Technical Specification regarding the quality and characteristics of products that might be considered "flushable" and how products, flushable and non-flushable, might be clearly labeled. This international committee consisted of both utility representatives as well as those in the wipes manufacturing industry. This work was nearing completion when it was halted by a challenge from the manufacturers concerning test methods.
Over the same timeframe, INDA, the US-based trade association for non-woven products, sought collaboration with the major North American wastewater associations (CWWA, NACWA, WEF and APWA), to review and improve their voluntary Code of Practice and their Guidance Document for Assessing Flushability (GD3) of their products. A task group of wipes industry and municipal utility representatives worked to develop a more stringent fourth edition of the INDA Guidance Document – GD4, but this work halted by the end of 2016 when the manufacturers failed to accept proposals for new tests and pass/fail criteria provided by the wastewater associations.
INDA and the utility associations did however come to agreement on a new voluntary Code of Practice with better guidelines for labeling of any product that could likely be flushed – although we did not agree that any products could be considered flushable yet. You can obtain the new Code of Practice at: http://www.inda.org/code-of-practice-download/ .
So this leaves us with the original question of "what is flushable?" With the suspension of the ISO work and collaboration with INDA failing, the wastewater associations joined together to form the International Water Services Flushability Group (IWSFG). This informal coalition put together a position statement on non-flushable and flushable labelled products which is now supported by wastewater services in 25 countries and by over 300 stakeholders. You can see the position statement and the entire list here.. The IWSFG is also developing a flushable product standard that would be acceptable to wastewater services.
Any developed standard (whether international or North American) would require adoption within Canada, as a Canadian Standard, to be enforceable. The ISO and continuing IWSFG work has paved the way, and saved much time, on the development of a Canadian national standard. However, funding is required to continue this work and move us forward toward the implementation of a standard into legislation.
We are requesting Canadian wastewater utilities to contribute to a common fund for the development, adoption and implementation of a Canadian Standard for 'Flushability'. Previous quotes from standards associations estimate a cost in the range of $150,000 over 18 months to develop a Canadian standard. Additional funds would be required to support lobbying efforts and the process to have such a voluntary standard adopted as an enforceable regulation. Given that the annual cost to Canadian utilities for responding to inappropriately flushed products is assessed at $250 million, the cost-benefit ratio of this investment is clearly evident.
Show your leadership by adding your logo to the Canadian Wastewater Statement on Flushables - Read More
Show your leadership by adding your logo to the Canadian Wastewater Statement on Flushables
Please contact Kara Parisien at CWWA for support information:
Kara Parisien,
CWWA Communications (613)747-0524 ext 4 or kparisien@cwwa.ca
Payments are to be made to the Canadian Water and Wastewater Association with a note to direct funds to flushable standard campaign.
Canadian Water and Wastewater Association
1010 Polytek Street Unit 11
Ottawa, ON, K1J 9H9
Contact Account Receivable Clerk Louisa Spina for payment details, electronic banking, invoices and receipts.
Louisa Spina, CWWA Accounts Receivable
(613)747-0524 ext 226 or lspina@cwwa.ca
Links and Supporting Documents
Global Committee of Water Experts Presents Consumer Flushability Guidelines
REVIEW OF BABY WIPE COMPLIANCE
WITH THE INDA/EDANA 2017
2ND EDITION LABELING CODE OF PRACTICE
International water industry position statement on non-flushable and 'flushable' labelled products
EFFECTS OF FLUSHABLE PRODUCTS ON WASTEWATER INFRASTRUCTURE AND NATURAL AQUATIC ENVIRONMENTS
Ryerson University Report: Defining Flushability
Western University: Nonwoven Fabric Product Analysis Summary Report
The Road to a Standard for Flushability: March 2019 Update
Canada wide wastewater statement release
Suggested donation levels, donation instructions and project details
International Organization
for Standardization
CWWA has suported the development of several standards that support water utilities and related industries.
ISO standards cover almost every water issue, from pipes and irrigation to water quality, management and sanitation
ISO and Water
Out of a total of more than 21,300 International Standards, ISO has more than 1 ,200 related to water, with many more in development.
ISO/TC 224
Service activities relating to drinking water supply, wastewater and stormwater systems
ISO/TC 224 Water Utility Service Activities
This Committee website includes the latest activities and updates from the Committee

CWWA is a non-profit national body representing the common interests of Canada's public sector municipal water and wastewater services and their private sector suppliers and partners.
Head Office
CWWA, Unit 11, 1010 Polytek Street, Ottawa, ON K1J 9H9 Canada
(613) 747-0524
admin@cwwa.ca